Behind the Ham House & Medway Scenes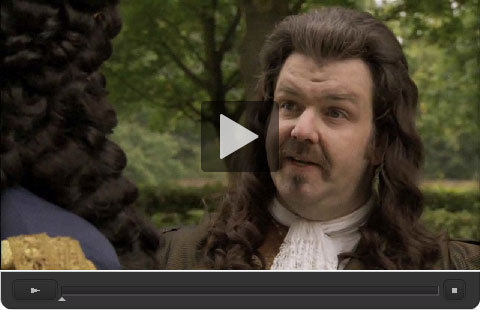 Using the dramatic backdrop of Ham House, this scene shows the results of the camera and dolly used a) on a straight track as the actors walk into the hedgerows and then b) on a semicircular track as the actors stop and discuss the split of fleet. The takes here emphasize the actual raw filmed shot on the semicircular track before Editor (Jean Dunoyer) and Director (David Hickman) edited these takes into the footage seen in the film.
The Ham House Scene
King Charles (Thomas Arnold) discusses the split of the English fleet with George Monck, now Lord Albemarle (Steve Varnom)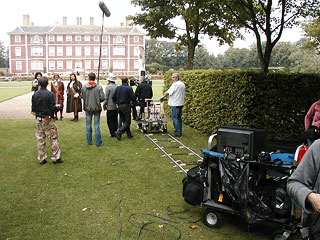 In the Hedges behind Ham House, the crew sets up for a tracking shot of Charles walking with Albemarle. Later the crew sets up semi circular tracks to get the effect seen as the Charles discusses the split of the fleet with Albemarle reacting to the risks.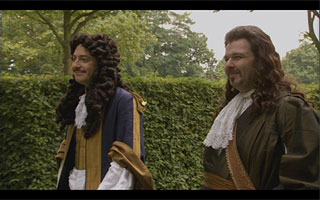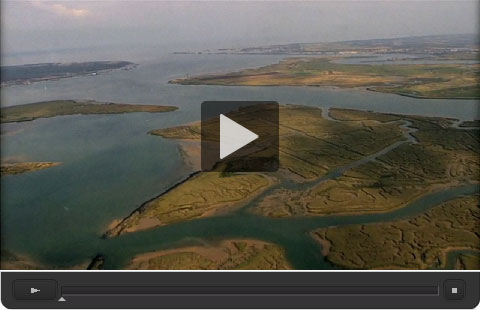 Shown here is the original raw footage from the aerial shoot. It provided establishing shots, later retouched to eliminate modern artifacts like smoke stacks and power boats; the landscape from which our animators would model our virtual landscapes; and, of course, the details of Upnor Castle itself, which became the center of action in the Medway Scene.
The Medway Scene
DeWitt (Roger May) reveals his plan to DeRuyter (Nick Stringer) and Secretary Ruysch (Martin Bishop) to send a force up the Medway to surprise attack the unmanned and unarmed English fleet.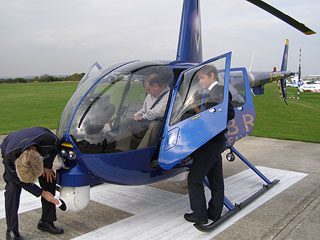 Producer Bruce Twickler fastens seatbelt in the helicopter for the shoot of the Medway aerial footage as Mike Smith of Flying TV cleans the lens of the pod containing the remote control camera. The aerial footage provided the establishing shots for the Medway River and the great bird's eyeview of Upnor Castle. It also showed the animation team what they needed to match when we transition from the actual Medway to our virtual Medway.